Images of Research 2020 Voting
Collaboration for impact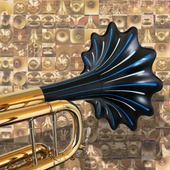 The Shape of Sound
Andrew Wodehouse
This novel brass trumpet bell was produced using Incremental Sheet Forming (ISF) – a digital process for manufacturing complex shapes in hard metal alloys, though rarely used for brass. Working with Taylor trumpets, Matthew Parker Trumpets and Pascoe Engineering, we are exploring advanced digital manufacturing techniques applied in a traditional setting, to create bespoke trumpet bell shapes andsounds that reflect the personality of the player.
Image: © 2020 Andrew Wodehouse
.
Collaborators: Daniele Marini, Taylor Trumpets
Picture of health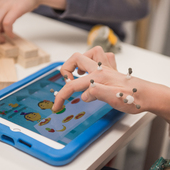 Insights in autism: serious gameplay
Jonathan Delafield-Butt
Autism is a psychological disorder that affects 1 in 58 children. Early detection and support offer the best possible outcome, however, autism is not easily diagnosed and waitlists can be very long. Working with partner neuropsychiatrists, we are developing wearable technology and serious, but fun, iPad games for children. Using artificial intelligence, we can analyse their gameplay to identify autism, providing a new route to early detection for improved clinical and educational support.
Image: © 2020 Jonathan Delafield-Butt
Transformative technology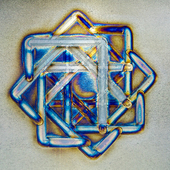 Manufacturing Beauty
Momchil Vasilev
This artwork was not created by a human, but by an arc-welding robot, demonstrating its precision. However, work done by such robots still needs to be quality checked. Currently done by hand, it is the slowest link in the supply chain and subject to human error, but Strathclyde researchers are developing ultrasonic weld testing at the point of manufacture, enabling defects to be detected and repaired as they develop.
Image: © 2020 Momchil Vasilev
Sustainable society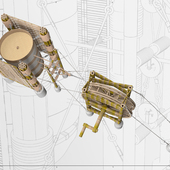 Sustainable Technology inspired by tradition
Runda Aduldejcharas
Transitioning to sustainable construction and manufacture is a challenge facing countries around the world, however, sometimes history provides the answers. Working with local people and scholars in Thailand, we took inspiration from traditional food processing methods, to design a machine (pictured) to aid the production of interlocking bricks. Made from bamboo, the machine will sieve local, natural materials – like seashells – ensuring building construction is sustainable from end to end.
Image: © 2020 Runda Aduldejcharas
.
Collaborators: Dr David Grierson
<!-googleoff: index-> <!-googleon: index->