Images of Research 2018 Voting
Measurement Science and Enabling Technologies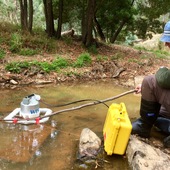 In case of emergency - innovate!
Jen Roberts
Field research often requires a bit of creative thinking. To measure natural CO2 leakage from rocks on this riverbed in Victoria (Australia), we niftily adapted our equipment to obtain the best results. Our research is developing methodologies to measure CO2 leakage, enabling precise monitoring of carbon capture and storage (an important technology to tackle climate change), which can provide reassurance for regulators and communities, and help to shape international policy.
Image: © 2018 Jen Roberts
.
Collaborators: Dr Linda Stalker, Dr Matt Myers and Cameron White (CSIRO)
Advanced Manufacturing and Materials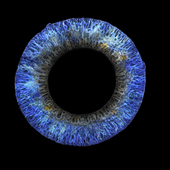 A vision of the future
Alexandra Costa
Ozone gas has been used to clean water for centuries; however, this complex process can make water treatment expensive. My research has created a new material – a polymer membrane (pictured) – which aims to enhance ozone water treatment, making it more efficient and cost-effective, especially for countries with limited access to water. Resembling an eye, the membrane also represents my vision as a researcher: to make a difference.
Image: © 2018 Alexandra Costa
Innovation and Entrepreneurship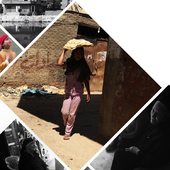 Giving Voice to the Voiceless
Christine Habib
Stories are read and heard; they reflect experiences, and can reveal truths. My research gathers narratives of women working in informal settlements near Cairo, to understand how entrepreneurship is not only creating new products and services, but is facilitating a more empowered and liberated individual and collective existence for marginalised females, their families and the communities as a whole.
Image: © 2018 Christine Habib
Society and Policy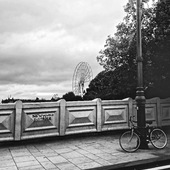 Environmental governance in 'global Britain'
Maria Ntona
The term 'New World Order' is widely associated with global governance, its origins lying in the formation of the League of Nations following the devastation of WWI. This scene in Edinburgh shortly after the EU referendum depicts the growing disillusionment surrounding cosmopolitan ideals. Strathclyde'sresearch on post-Brexit environmental governance is helping to realise the Scottish Government's vision for continuing collaboration with the EU and other international actors on environmental matters.
Image: © 2018 Maria Ntona
Ocean, Air & Space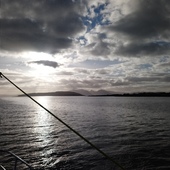 O Porpoise, where art thou?
Mel Cosentino
Harbour porpoises are small-toothed whales found exclusively in the northern hemisphere, and a resident species in the Firth of Clyde. They are shy and very difficult to observe at sea; however, we can 'see' them in a different way. My research is focused on improving the algorithms to detect these highly vocal mammals and classify the characteristic ultrasonic clicks that they produce to study their ecology and natural behaviour.
Image: © 2018 Mel Cosentino
.
Collaborators: The vessel belongs to the Clyde Porpoise CIC (David Nairn), who also funded the fieldwork and provides me with the data.
Energy
Looking deep inside the earth
Yannick Kremer
This abandoned Scottish coalmine provides scientists with a unique opportunity to study rocks that normally occur deep below the surface. Here researchers, from the University of Strathclyde and the British Geological Survey, are looking at faulted and fractured limestone and coal beds, to improve and safeguard future energy technologies such as Carbon Capture and Storage, and Geothermal energy.
Image: © 2018 Yannick Kremer
.
Collaborators: Zoe Shipton, Silvia Sosio de Rosa, Sarah Arkley
Health & Wellbeing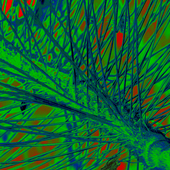 Mysteries of perception
Brian Saltin
You are looking at an image of a midge's antenna in false colour. The size of this tiny sample is less than 2mm, however scanning electron microscopy allows us to study its anatomy in detail. But why care about how a midge hears, beyond marvelling at the mysteries of perception? Understanding the biological principles of hearing in insects can lead to bio-inspired technological developments like miniaturisation of hearing aids.
Image: © 2018 Brian Saltin
<!-googleoff: index-> <!-googleon: index->